Be Clear on Cancer and check your breasts
Women over the age of 70 are being urged to waste no time and visit their doctor if they notice any changes to their breasts.
The Be Clear on Cancer campaign runs from 13 July to 6 September 2015, and aims to highlight to women over 70 the importance of visiting a doctor straight away should they find any changes to their breasts.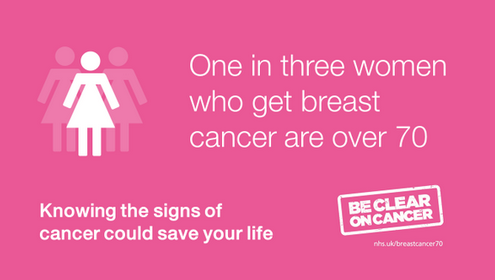 Research indicates that older women are at a higher risk of getting breast cancer – one in three women who are diagnosed with breast cancer are over 70.
Women between the ages of 50 and 70 are currently invited for breast screening every three years. Women over the age of 70 are entitled to a free screening every three years and should make an appointment with their GP in order to arrange this.
Many women also think that the only indicator of breast cancer is a lump, but this is not the case. Any changes out the ordinary could be a sign, and the sooner a visit to the doctor is made, the more treatable the cancer will be.
Councillor Ken Meeson, Cabinet Member for Health and Wellbeing said: "We encourage women over the age of 70 to not think twice about visiting their doctor should they see any changes to their breasts. It is better to seek medical advice than just ignore any concerns.
"I can't overstress the importance of screening sessions and I urge all women, particularly those over the age of 70 to check their breasts and report any changes to their doctor as early as possible".