By taking a little care of yourself over the Bank Holiday, you can make sure you stay well and avoid any unnecessary trips to hospital.
The emergency and urgent care system comes under increasing pressure in the run up to and over holiday times, and local doctors at Solihull Clinical Commissioning Group (CCG) are urging local people to take some basic steps to keep themselves well.
Women over the age of 70 are being urged to waste no time and visit their doctor if they notice any changes to their breasts.
The Be Clear on Cancer campaign runs from 13 July to 6 September 2015, and aims to highlight to women over 70 the importance of visiting a doctor straight away should they find any changes to their breasts.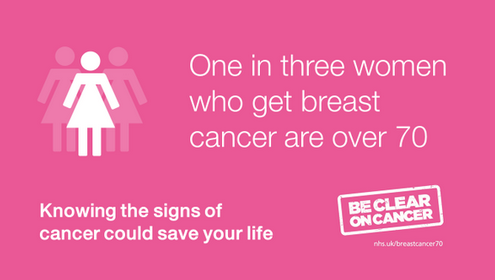 Solihull Clinical Commissioning Group (CCG) is helping to tackle the national shortage of GP practice-based nurses by hosting its first group of students at six local surgeries.
Six student nurses in their second year of training at Birmingham City University are undertaking full-time, nine-week placements with Solihull practices - the first full programme in the region.
The move by the CCG is aimed at encouraging student nurses to follow a career in primary care.